Rating: 4/5
The Faceless Old Woman Who Secretly Lives in Your Home was the first of the Night Vale book series I came to read. Without having any prior knowledge of the Night Vale universe, mainly the podcast since its inception in 2012, I was skeptical in taking a dive right into the third novel of the series; there are four novels to date. Luckily, there's no requirement for delving into the other novels nor subscribing to the podcast in order to follow along with this novel; although I'd recommend it in order to fully grasp the Night Vale universe.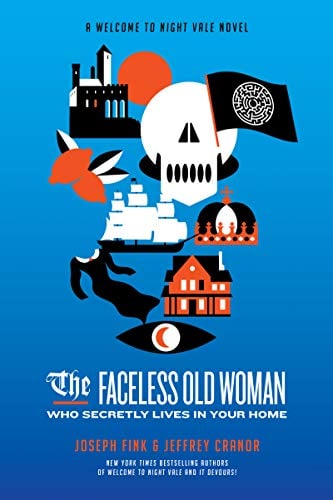 The Faceless Old Woman Who Secretly Lives in Your Home is told through the perspective of the old woman. We are introduced to her in the present day as she intervenes in Craig's life, a man the old woman seemingly acts in a manner like a guardian angel, or perhaps even a devil. Her relationship to Craig is unknown, but we come to understand very early in the novel that she's been a part of Craig's life since his infancy. Guiding his path to lead a "good" life, the faceless old woman utilizes her power of persuasion (by whispering in ears, writing anonymous letters,or texting photos of dead animals to women in Craig's life) as well as her mischievous intentions. The faceless woman then begins to recount her own "path" in life which had started centuries prior, in her upbringing along the Mediterranean Sea. Being raised by her father, the faceless woman narrates the circumstances of betrayal, murder, which ultimately lead to the end of her mortality. Blinded by revenge, her adventures tread the seas and lands stretching across Europe to eventually, the United States spanning several centuries.
There aren't as many horror elements or scares as I'd expected in this novel. But that doesn't mean it isn't a worthy read. The authors, Joseph Fink and Jeffrey Cranor, do a terrific job in keeping us readers invested by conjuring characters with depth and purpose; although there were a few times during my reading when I felt a slight chill up my spine. The supernatural elements are plentiful and the constant leaping from past to present day does a great job of tying pieces of the story together. I honestly appreciate writing that doesn't necessarily have to spell everything out for me.
For those who have already invested into the Night Vale universe (whether through the novels or podcast), some found this novel slightly underwhelming as 98% of it takes place outside the creepy desert town. Yet the overall consensus, without considering its relation to the town of Night Vale, has been mostly positive. I for one absolutely loved this book. It's definitely a story that will leave you looking back and tying things together. You may ask yourself if you'd do the same as the Faceless Woman. I know I did. Grab your copy or check it out at your local library. The Faceless Old Woman Who Secretly Lives in Your Home is a good one. Thanks for reading.

"Hey, you got fifty cents?"